44
---
Hemp Resources IV
David P. Watson
International Hemp Association, Postbus 75007, 1070 AA Amsterdam, The Netherlands
---
This review will cover industrial hemp and medical Cannabis journals and organizations. The best are fully reviewed and contact information is also supplied for a few more. If I have left out an important group I apologize. One problem is that the contact information is constantly changing, making it difficult to reach some of the smaller or more mobile groups that we had reviewed in the past. If some of the information is not listed, it is because the information was not supplied by the respective organization. We did not include the IHA or JIHA, as our members and most readers will be familiar with this work.
Journals
Commercial Hemp
Language: English
Publisher/Editor: Sotos Petrides
Postal address: suite 320, 505 Hamilton St. Vancouver, B.C. V6B 2R1, Canada
Tel: 604-662-8600
Fax: 604-662-8621
E-mail: events@wisenoble.com
WWW:wisenoble.com
Subscription cost: $26.75 Canadian
$30.00 US
Established: 1997
Issues to date: 5
Circulation: 2000
Pages per issue: 32
Format: Some color
Subjects covered: Commercial Hemp magazine is the only trade journal exclusively dedicated to covering the emerging worldwide hemp industry. Published quarterly, Commercial Hemp provides up-to-date information relating to agricultural research, the environment, processing technology, manufacturing, trade, pulp and paper and marketing of industrial hemp. Government and regulatory updates are covered, as well as regular features such as Hemp Plugs, World Notes, Opinions and Association Listings are offered in every issue.
Comments: Summer issue announcing upcoming Wiseman Noble Events, New Technologies, the latest in North American research Ads: Yes, contact for rates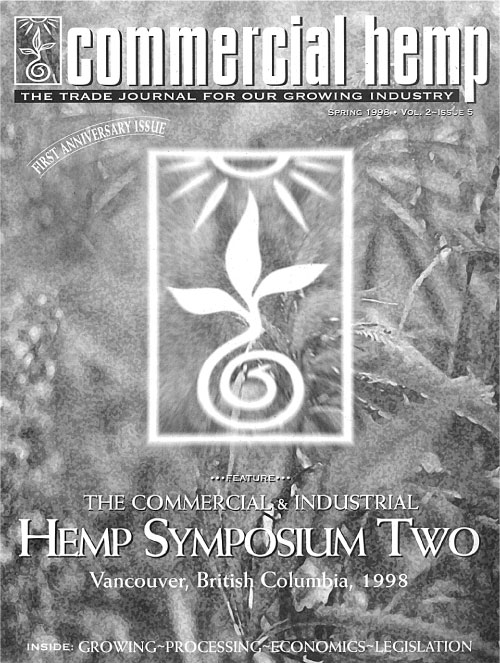 Hemp Magazine
Language: English
Publisher/Editor:
Richard Tomcala / John E. Dvorak
Postal address: 1533 Westheimer, Houston, TX, 77006, USA
Tel: +1 713-523-3199
Fax: +1 713-528-HEMP
E-mail: hempmag@lconn.com
WWW: http://www.marijuananews.com/hemp.htm
Subscription cost: $20 per year
(USA), $40 per year (Int'l)
Established: 1995
Issues to date: 25
Circulation: 50,000
Pages per issue: 28
Format: "Newspaper" format, two sections, mostly B&W. Some Ads and photos in color.
Subjects covered: All aspects of industrial hemp with a lesser focus on medicinal marijuana and the folly of the drug war.
Contact people: For advertising and subscriptions: Richard Tomcala (see contact #'s above)
For hemp news and potential writers: John E. Dvorak, Managing Editor
boston.hemp@pobox.com
http://www.marijuananews.com/hemp.htm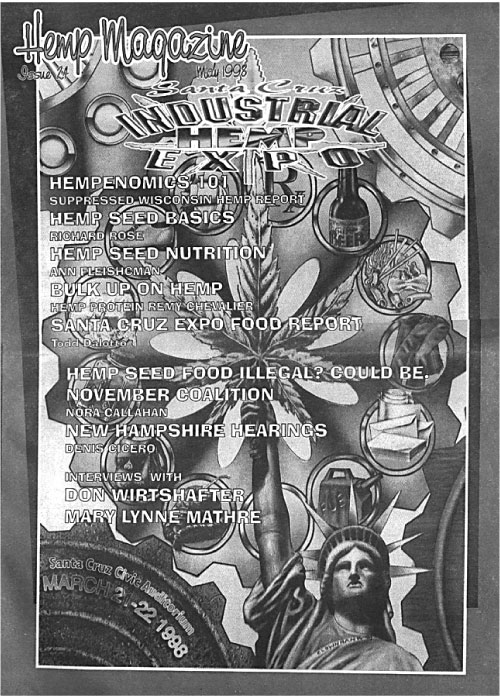 Hemp Times
Language: English
Publisher/Editor: John Howell
Postal address: Hemp Times Magazine, 111 East 14th Street, Suite 278, New York, NY 10003, USA
Tel: +1 212-387-0500
Fax: +1 212-475-7684
E-mail: Editor@hemptimes.com
WWW: http://www.hemptimes.com/
Webmaster@hemptimes.com
Subscription cost: 14.99/year
Established: 1996
Issues to date: 11
Circulation: 75,000
Pages per issue: 100
Format: Print Media, Color
Subjects covered: Interviews with pro-hemp celebrities, Regional reports from America's hemp hotbeds; Profiles of eco-entrepreneurs; Personal essays on eco-living; Articles on environmental issues; News, domestic and international; Pages of hemp fashion, accessories and body products; Shopping Guide: Where to buy hemp; Hemp Directory: listing of eco-companies.
Comments: Hemp Times magazine is owned and operated by The Hemp Company of America whose primary mission is the legalization of hemp for industrial and Commercial uses.
Contact person: John Howell 212-387-0677
Ads: Attn.: Joel Gershon, 235 Park Avenue South, 5th Floor , New York, NY 10003
Tel: 212-387-7384
Advertise@hemptimes.com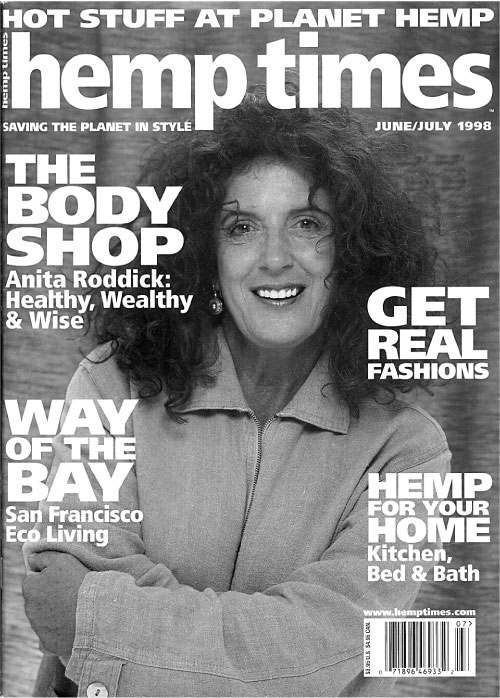 HempWorld
Language: English
Publisher/Editor: Mari Kane
Postal address: PO Box 550, Forestville, CA 95436, USA
Tel: 707 887 7508
Fax: 707 887 7639
E-mail: mari@hempworld.com
WWW: http://www.hempworld.com/
Subscription cost: 4 issues per year, (USA & International) $15 US/ $20 Canada/ $35 Elsewhere Free to North American industries with qualification.
They accept checks in US Funds from North America only; international money orders; VISA/MC is preferred on foreign purchases.
Established: 1993
Issues to date: 20
Circulation: 17,000
Pages per Issue: 60
Format: Color
Subjects covered: Farming, processing, manufacturing, retailing, marketing, politics, news, contact information, occasional humor.
Comments: HempWorld is the premier hemp publication. They also publish the bi-annual Hemp Pages-The Hemp Industry Source Book. Archives and information is posted at our site - hempworld.com. Back issues, books and videos are available through our retail arm, HempWorld Bookshop.
Ad sales: 707-887-2767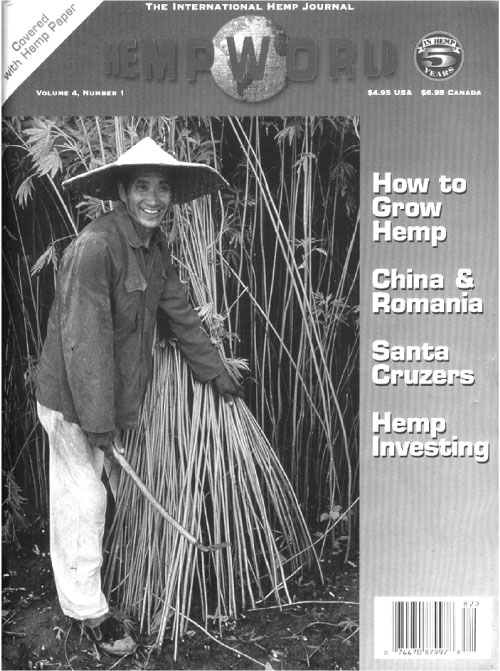 Les echos du Chanvre
Language: French
Publisher/Editor: Franck Machy / Pascale Lagouge
Postal address: La Maison du Chanvre, BP 7005, 69341 Lyon Cedex 07, France
Tel: +33 (0)4 78692208
Fax: Same
E-mail: No
WWW: No
Subscription cost: 4 issues-EU-FF100, elsewhere-FF150
Established: 1995
Issues to date: 10
Circulation: 1000
Pages per issue: 16
Format: 21x29.7 cm, B&W
Subjects covered: History and traditions, therapeutic uses, industrial uses.
Comments: Nice for insights into French and other European issues.
Contact person: Franck Machy
Ads: Yes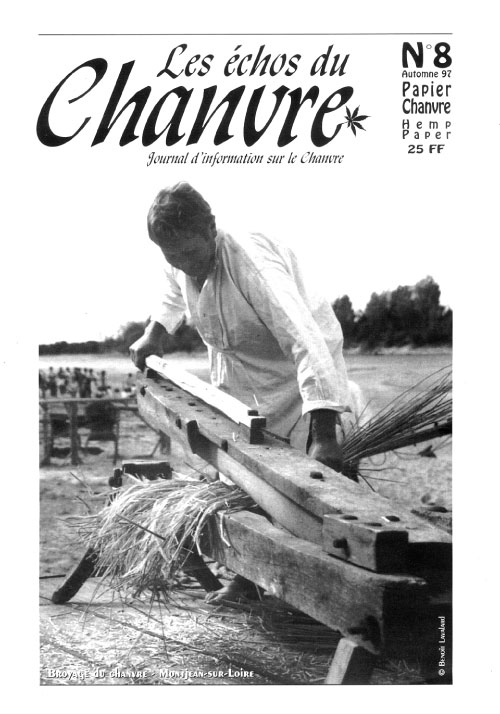 215 Reporter
Language: English
Publisher/Editor: Ellen Komp, Lynn & Judy Osburn
Postal address: Access Unlimited, PO Box 1900, Frazier park, Calif, 93225, USA
Phone: 805 632-2644
E-mail: ekomp@slonet.org
Subscription cost: $25.00 per year
Year established: 1998
Issues to date: 3
Pages per issue: 16
Format: A-4, B&W
Subjects covered: The 215 Reporter was born out of necessity. Proposition 215 was passed by a majority of the California voters, yet has been resisted by a majority of elected officals. We felt a need for a publication to address the legal, medical, and moral isssues unfolding daily. Since compassion is not limited to California, we will report about these issues worldwide the best we can.
Comments: This journal is political but we included it because of the importance of the issues.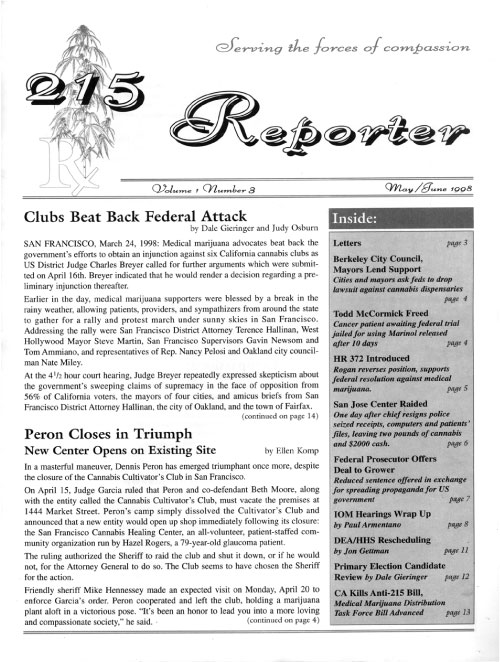 Organizations with journals or newsletters
Arbeitsgemeinschaft Cannabis als Medizin (Association of Cannabis as Medicine-ACM)
Postal address: ACM, Maybchstraße 14, D-50670 Cologne, Germany
Tel: +49-221-9123033
Fax: +49-221-1300591
E-mail: ACMed@t-online.de
WWW: hanfnet.de/acm/
Established: 1997
Membership: 550 members (about 30 to 40 new members every month)
Membership fees: 120 German Marks per year (60 DM reduced)
Summary of activities: Information: Every three months the ACM publishes the ACM-News. Every 14 days the ACM-Informationen (German version) and the ACM-bulletin (English version) are published in the Internet.
Consultation: The ACM answers questions around the pharmacological effects of cannabis, its therapeutic use and legal issues. It makes expert opinions for lawsuits.
Public relations: Members of the ACM give interviews, write articles, give lectures etc.
Influencing: The ACM stays in contact with institutions and representatives of politics, medicine and justice in Germany, Switzerland and Austria. Some of them get the ACM-News regularly.
Regional work: Self help and other regional activities are being supported. A member of the self help group in Berlin belongs to the Board of Directors of the ACM.
International contacts: The ACM maintains manifold international contacts.
Support of research: The ACM supports research. For this purpose a special bank account, a research committee (Prof. Brenneisen/Switzer-land, Dr. Gorter/Germany, Dr. Hagenbach/Switzerland, Dr. Grotenhermen/Germany) and an advisory board (including:Prof. Mechoulam/Israel, Dr. Pertwee/Great Britain, Prof. Grinspoon/USA, Dr. Consroe/USA, Prof. Aldridge/Germany) have been installed. This work is just starting.
Journal/newsletter: ACM-News every 3 months
Journal Title: ACM-News
Language: German
Subscription cost: 20 German Marks / year
Established: 1997
Issues to date: 4
Circulation: 500-1,000
Pages per issue: 4-6
Format: Din A4, B&W
Contact person: Franjo Grotenhermen
Australian Hemp Resource and Manufacture (AHRM)
Postal address: 15 Belmont Crescent, Paddington, Queensland 4064, Australia
Tel: +61 7 3369 5925
Fax: +61 7 3368 1255
E-mail: ahrm@hits.net.au
WWW: ahrm.com.au/
Established: 1993
Membership: 2,000
Membership fees: free
Summary of activities: Research and development of the hemp industry in Australia and South Pacific. Breeders of tropical/sub-tropical varieties of hemp suited to low latitude countries. Developers of industry feasibility studies, and government lobbyists.
Comments: Other publications include a "Gross Margins Booklet" which estimates the likely returns for hemp production in the northern regions of Australia (AUS$15) and "The Ecofibre Strategy Report" that outlines the steps and reasoning behind setting up an ecofibre industry in Australia.
(AUS$8)
Additional postage fee of AUS$5 for overseas orders.
Journal/newsletter: Hempnotes
Language: English
Subscription cost: AUS$120 per year for 4 magazines, or AUS$34 each.
Established: 1997
Issues to date: 3
Circulation: 150 subscription, 500 individuals (80% growers, 15% processors & manufacturers, 5% scientists, government officials, consumers)
Pages per issue: 24-36
Format: A4 sized magazine. Easy-to-read, referenced material with diagrams, photos and tables, B&W
Subjects covered: Focuses on all aspects of the industrial hemp industry from grower through to processor, manufacturer, retailer/ wholesalers and end-user. Also includes updates on national and international issues relating to the industry. Includes book reviews, interviews, general interest articles and in-depth reports.
Comments: Advertisement space available.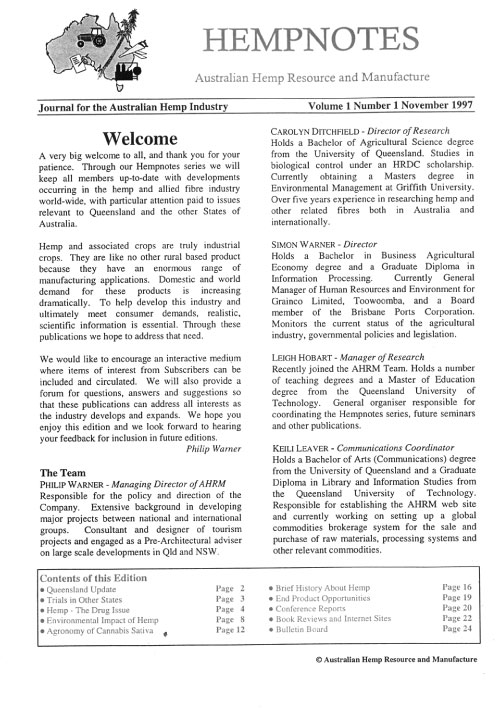 Coalition for Hemp Awareness (Cha!)
Postal address: P.O. Box 9266 - Chandler Heights, AZ 85227 USA
Tel: +1 (602) 988-9355
E-mail: chaxh@aol.com
WWW: http://members.aol.com/chaxh/index.html
Established: 1991
Membership: Thousands/Millions? Everyone who is doing something to further the cause is a part of Cha! as their energies filter around the world in a coalesced approach to change. Because we don't have dues, we don't have "members" - we have a data base of thousands of people we interact with. Cha! is a network of activists and experts in virtually every phase of the hemp issue. Thousands of people worldwide, even though they may belong to another group consider themselves also a part of the Coalition. They hope you do too - there are no dues - nothing to sign.
Membership fees: None
Journal/newsletter: Hot from Cha!
Language: English - occasionally Spanish
Established: 1992
Summary of activities: Cha! was founded for and serves as an information gathering and dissemination network.
Subscription cost: None
Issues to date: Hundreds
Circulation: Sometimes one - some-times hundreds. Then it multiplies rapidly from the first release.
Format: B&W
Subjects covered: All aspects of the hemp issue.
Comments: A communiqué of current events sent to Cha! Information Centers (retail stores), target people and groups who act upon and disseminate information on a specific issue. (like medical, eradication etc. -whatever the issue is dictates who receives the information) The copies for the Information Centers are formatted for each store to copy and distribute.
Contact person: Chris
Ecofibre Industries Association of Australia
Postal address: 15 Belmont Crescent, Paddington, Queensland, 4064, Australia
Tel: +61 7 3369 5925
Fax: +61 7 3368 1255
E-mail: ahrm@hits.net.au
WWW: ahrm.com.au/
Established: 1997
Membership: 200
Membership fees: AUS$25 joining fee, AUS$25 yearly membership
Summary of activities: Acting on behalf of the Ecofibre industry (hemp, kenaf, flax etc.). Prepared and lodged a submission to remove Cannabis sp. from the prohibited list of the Australian Food Standards Code. Prepared and lodged a submission to the Drug & Poisons Schedule Committee to consider the designation of an acceptable THC level for hemp-based seed and food products (currently there is zero tolerance). Both submissions have received positive responses. Future aims are to coordinate members into state and regional groups to ensure streamlining of production between growers and processors, promote the use of standard testing procedures and protocol, and overall providing a central point for information collection and dissemination.
Journal/newsletter: Ecofibre Industries Association News Bulletin
Comments: quarterly providing Association updates and activities occurring nationally and internationally.
Issues to date: 2
Format: A5 sized booklet, B&W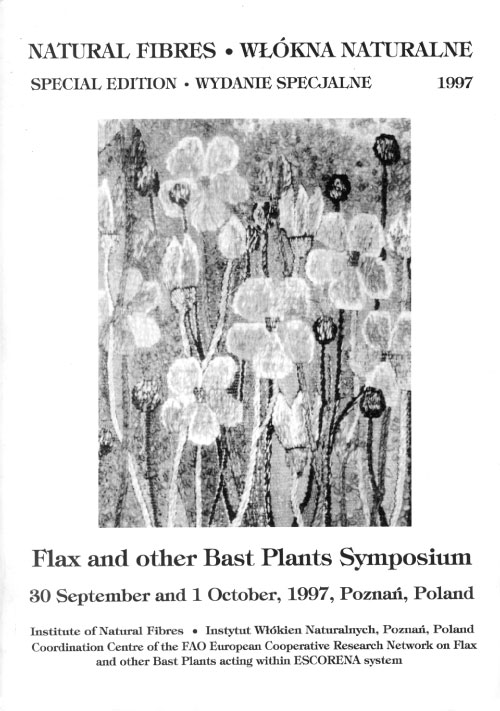 FAO European Cooperative Research Network on Flax and Other Bast Plants
Postal address: Institute of Natural Fibres, Ul. Wojska Polskiego 71b, 60-630 Poznan, Poland Coordination Centre of the FAO European Cooperative Research Network on Flax and Other Bast Plants
Phone: +48/61/ 8 22 48 15
Fax: +48/61/ 8417830
E-mail: netflax@iwn.inf.poznan.pl
WWW: http://iwn.inf.poznan.pl/~netflax/
Year established: 1989
Total membership: 323
Membership fees: None
Summary of activities: The FAO European Cooperative Research Network on Flax and Other Bast Plants, acting within ESCORENA (European System of Networks in Agriculture) since 1993, acted the status of an ad hoc Research Group on Flax since 1989.
The FAO Network on Flax and other Bast Plants is acting with Networks on plants of importance, ESCORENA promotes Research cooperation, exchange of information and transfer of know-how and methodology advances, with clear sustainable development and socio-economic implications.
At present the Network brings together 323 experts from 43 countries from the fields of Research, economics, marketing and industry. It also includes members from non-European countries as well as experts from Argentina, Australia, Brazil, Canada, Chile, China, Egypt, India, Mexico, South Africa and the USA.
Scope of activities:
Facilitation of collaboration and sharing of knowledge among scientists and professionalists from industry and trade.
Organizing Meetings and world-wide circulation of proceedings.
Analyses of linen world market and its future trends.
Collection of statistical data on flax · Consulting services, experts data base.
Focus on new textile and non-textile applications of flax and hemp and by-products.
Conducting Cooperative Research.
Journal/newsletter: Euroflax Newsletter information bulletin of the Network; bi-annual edition in English
Comments: contains news, technological novelties in scope of flax, hemp and other bast plants, statistical data, information about institutions, activities, reports on the events etc.
Contributions from the Networks' members are welcome.
Language: English
Publisher/Editor: Prof. Dr. Ryszard Kozlowski- Coordination Centre of the Network
Postal address: Same
Phone: +48/61/8 480061
Fax: +48/61/ 8417830
E-mail: Same
WWW: Same
Subscription cost: 20 US$ (bi-annual edition)
Year established: 1994 ( from 1989 edited as 2 pages Newsletter in the United Kingdom)
Issues to date: 8
Circulation: world wide
Pages per issue: 40
Format: A-4, B&W
Subjects covered: See above Contact person: Prof. Dr. Ryszard Kozlowski-Network Coordinator and Maria Mackiewicz-Talarczyk, MSc (Agr); Secretary of the Network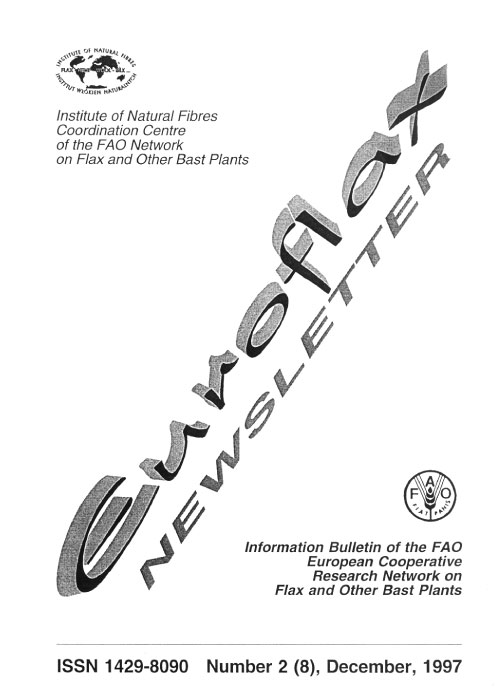 Hemp Industries Association (HIA)
Postal address: P.O. Box 1080, Occidental, CA 95465, USA
Tel: +1 707 874 3648
Fax: +1 707 874 1104
E-mail: info@thehia.org
WWW: http://thehia.org/ or http://hempstores.com/
Established: 1994
Membership: 285
Membership fees: Annual dues are based on gross revenues from the previous year. $100 for companies with less than $50,000, $200 for companies up to $100,000, $300 for companies up to $250,000, $400 for companies above $250,000
Summary of activities: Integrity, Quality, & Knowledge. The purpose of our trade group is to represent the interests of the hemp industry. The HIA educates consumers, and facilitates the exchange of information and technology between hemp agriculturists, processors, manufacturers, distributors, retailers, researchers, and publishers. The HIA defends the integrity of hemp products while advocating socially responsible and environmentally sound business practices. An annual Convention is held featuring expert speakers, workshops, committee meetings, displays, hempseed foods, and entertainment. Special reports are available to members - "World Hemp Trade Data", "Hempseed Foods Overview", "Gettman Study", "Hemp on the Net". All members have a free page on the HIA web site, with a link to their company's web site. Hempstores.com is a searchable web site allowing the public to find hemp retailers by location.
Comments: Info Packages with Letter / Hemp Facts / Directory are sent for lobbying purposes; legal cases; education / schools; media - radio, TV, newspapers, magazines; and governmental agencies.
Contact person: Candi Penn, Sec.
Journal/newsletter: HIA Hemp News and Leads sent to members only. Directory of Members & HIA Brochure sent to public by request. Very interesting contacts through Leads newsletter.
Language: English
Publisher/Editor: Hemp Industries Assoc.
Subscription cost: Free with Membership
Established: 1997
Issues to date: 17
Circulation: 300
Pages per issue: 8 pgs.
Format: 8 1/2 x 11 inch on 100% Recycled Paper, B&W
Subjects covered: News/Events re: industrial hemp and HIA membership notices.
Comments: They promote the use of the Internet as the best communication tool available and a wise choice instead of paper usage. Several members maintain web sites with all the news on hemp.
Contact person: HIA Office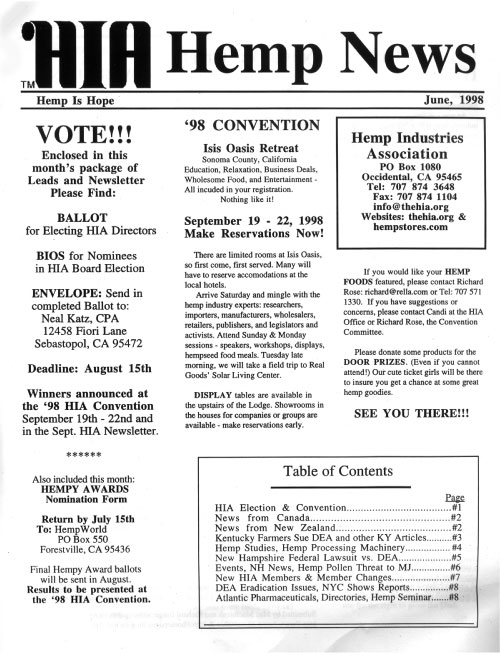 International Cannabinoid Research Society (ICRS)
Membership fees: $40.00
Postal Address: ICRS,
Diane Mahadeen, 55 Elsom Parkway, S. Burlington, VT 05403 USA
Phone/Fax: 802 8650970
E-mail: ICRS@together.net
WWW: http://129.49.19.42//ICRS/ICRS_main.html
Year established: 1991
Total membership: 200+
Summary of activities: The International Cannabinoid Research Society (a non-profit research society) is dedicated to research in all fields relating to Cannabis, from receptor studies to treatment and prevention of marijuana abuse. The purposes of the ICRS are to foster research on all aspects of Cannabis sativa, hold scientific meetings and present and discuss research developments in the field. This year the Society will hold the 8th Annual Symposium on Cannabis and the Cannabinoids.
The ICRS was formally incorporated as a scientific research society in 1991. Prior to that, symposia were organized by various researchers in The field since 1970. Membership in the society has more than tripled from about 50 members in the first year to over 190 in 1997. Nearly all active researchers are now members of the Society, including chemists, biochemists, pharmacologists, neuroscientists, psychologists and sociologists. Growth in membership reflects the explosion of research following the discovery of cannabinoid receptors in the brain. Since the first meeting, collaboration among members around the world has markedly increased. Almost every major discovery in the cannabinoid field has been reported first at an ICRS conference.
Journal/newsletter: ICRS News included with membership
Language: English
Year established: 1993
Issues to date: 8
Circulation: 200+
Pages per issue: 12
Format: 81/2"x 11", B&W
Subjects covered: See above
Comments: The premier scientific group for the study of Cannabis and the cannabinoids.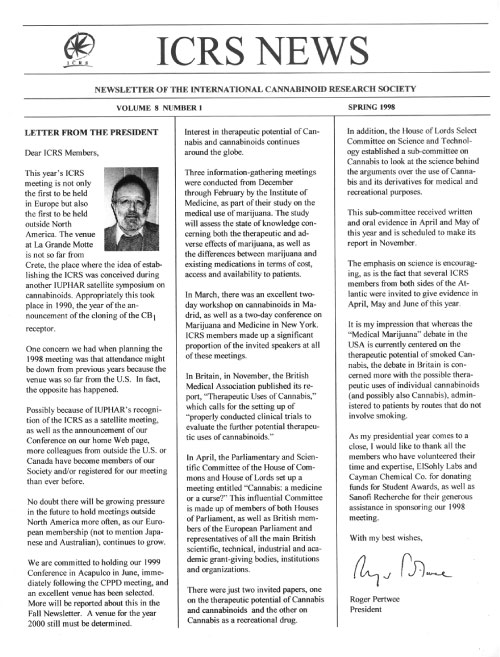 Marijuana Policy Project (MPP)
Postal address: P.O. Box 77492, Capitol Hill Washington, D.C. 20013, USA
Tel: +1 202-462-5747
Fax: +1 202-232-0442
E-mail: MPP@MPP.ORG
WWW: www.mpp.org/
Established: 1995
Membership: 3,000
Membership fees: $25 membership includes quarterly newsletter
Summary of activities: seeks to minimize the harm associated with marijuana, primarily focused on assessing current marijuana policy in the U.S. and promoting alternatives, lobbying legislators, building coalitions, and educating the public.
Comments: The MPP is concerned with all of the harmful aspects of marijuana prohibition, not just the status of medicinal marijuana -- though that is where most of our attention is focused at the present time. You probably knew that, but I wanted to point it out. Our Mission Statement is located at http://www.mpp.org/mission.html, if you need details.
Journal/newsletter: Marijuana Policy Report (quarterly newsletter)
Language: English
Subscription cost: Free with membership
Established: February 1995
Pages per issue: 24-32
B&W/Color: 2-color
Ads: No ads
Contact person: Michael Kirshner, Production Manager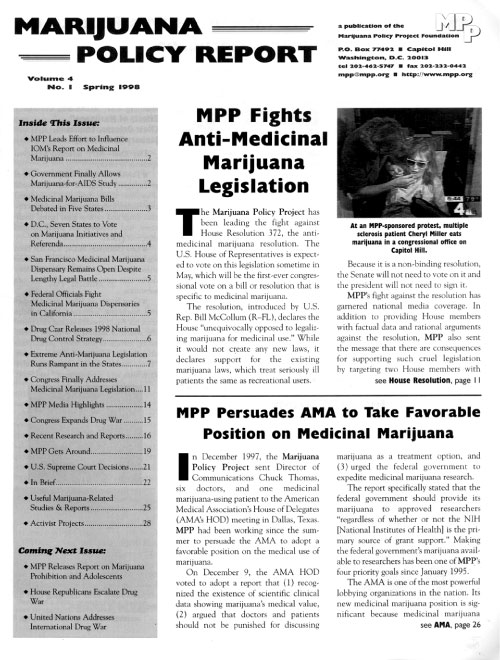 Österreichisches Hanf-Institut
Postal address: Dürerg. 3, A-1060 Wien, Austria
Tel: +431-586 94 29
Fax: +431-586 94 48
E-mail: hanf-institut@magnet.at
WWW: http://www.spirit-of-hanf.com/hanf-institut/
Established: 1994
Membership: 250
Membership fees: ATS 365.00 (201.00 for students, retired, civil servants, non-working)
Summary: Information, Cooperation, PR, Lobbying for hemp and medical marijuana
Contact person: Helmuth Santler
Journal/newsletter: Österreichisches Hanf-Magazin
Language: German
Publisher/Editor: Österreichisches Hanf-Institut/ Helmuth Santler
Subscription cost: ATS 140.00 (160.00 abroad)
Established: 1995
Issues to date: 10
Circulation: 5.000
Pages per issue: 20 to 24
Format: DIN A4, color
Subjects covered: industrial hemp, business stuff, medical marijuana
Contact person: Helmuth Santler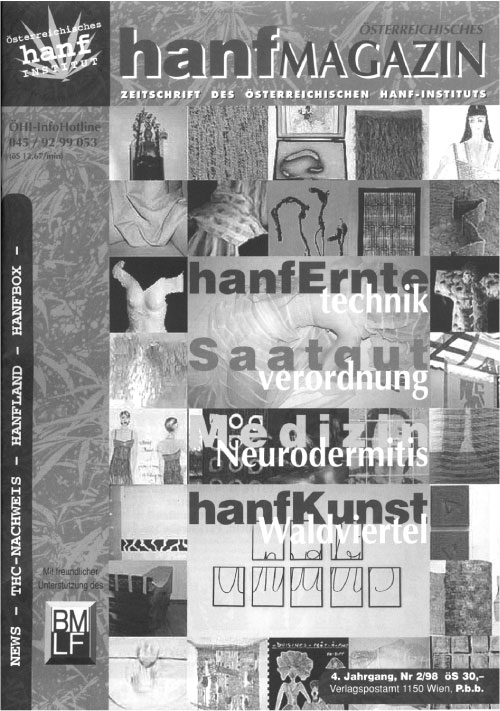 Organizations
Agricultural Hemp Association (AHA) & (AHA Voter)
Postal address: P.O. Box 8671, Denver, CO 80201, USA
Tel: +1 303-298-9414
Fax: N/A
E-mail: ahavoter@aol.com
E-mail: ahahemp@earthlink.net
WWW: earthlink.net/~ahahemp/
Established: 1996
Membership: Officers, no members.
Membership fees: No official membership at this time.
Summary of activities: Education of citizens and industry concerning the versatile nature of agricultural hemp using the electronic, printed and spoken word. AHA Voter, Political lobbying for reform of cannabis regulations and statutes on state and local levels of government.
Journal/newsletter: Periodic e-mail updates
Comments: At such time as American farmers can grow agricultural hemp the AHA plans to concentrate on providing essential seed, cultivation, production, and distribution solutions. Applied to IRS in 1996; after two years of adversarial communication, both nonprofits were formally approved by the IRS in May, 1998. Current projects include working with Native American Indian reservations to plant the first North American hemp crops. AHA Voter, a separate organization from the Agricultural Hemp Association. They created AHA Voter for the purpose of lobbying local and state governments to change their statutes and regulations to allow agricultural hemp cultivation. The AHA cannot lobby due to its tax deductible donation, 501c3 status.
Contact Person: Bruce Meyer
Alliance for Cannabis Therapeutics (ACT)
Postal address: ACT, P.O. Box 19161, Sarasota, FL 34276, USA
Fax: +1 (941)925-7048
E-mail: alliance@webcom.com
WWW: http://www.marijuana-as-medicine.org/
Established: 1981
Summary of activities: The Alliance for Cannabis Therapeutics (ACT) was founded in 1981 by Robert Randall, the first American to gain legal access to marijuana for medical purposes. ACT is a non-profit, volunteer organization which provides information on marijuana's medical use. ACT's goal is to end the federal prohibition of cannabis (marijuana) in medicine and reform present regulations which inhibit neutral study of the plant's therapeutic properties. ACT concentrates solely on the question of marijuana's medical utility and has no policy regarding the non-medical use of cannabis.
Comments: Today ACT is concentrating on the organization and republication of the vast amount of information it has compiled over the past sixteen years. As the demand grows for legal access to medical marijuana it is increasingly important that this information be made available on the broadest possible level.
Australian Hemp Products & AHIA
Postal address: P.O. Box 236, New Lambton, Newcastle, NSW, 2305, Australia
Tel: +61 249 556666
Fax: +61 249 55 66 55
E-mail: austhemp@hunterlink.net.au
WWW: legend.hl.com.au/Hemp/
Established: 1994
Membership: zero - No new members sought or renewed until we get more organized, activities temporarily stopped.
Summary of activities: help people grow, promotion, product development.
Journal/newsletter: AIHA
Comments: only distributing the IHA journal
Contact person: Grant Steggles
Canadian Hemp Farmers Assoc. (CHFA)
Postal address: 9175 Mainwaring Rd. Sidney B.C. V8L 1J9, Canada
Tel: +1 250-656-7233
Fax: +1 250-656-8860
E-mail: trade@pacificcoast.net
Summary of activities: They are contracting farmers across Canada. They have over 7000 acres already committed. They will be pressing seed next year in our own plant in Canada.
E-mail: worldlink@usa.net
Established: 1997
Membership: 250
Membership fees: none
Summary of activities: Our goal is to educate farmers and teach them how to grow hemp. They will be pressing seed next year in our own plant in Canada.
Journal/newsletter: Next year we will have a newsletter
Contact person: Rick Plotnikoff
Canadian Hemp Growers Association (CHGA)
Postal address: CHGA, 5811 156th Street, Surrey, B.C. V3S 8E7, Canada
Tel: +1 (604) 506-2352
Fax: +1 (604) 574-5258
E-mail: delta3@whidbey.com
WWW: www.canhempgro.com/ (under construction)
Established: May 29th, 1998 as a registered nonprofit society in British Columbia
Membership fees: Grower, CDN$30.00, Individual, CDN$30.00 Corporate, CDN$90.00 Philanthropist, CDN$900.00 Renewal, CDN$30.00
Membership: growing
Newsletter: In progress
Summary of activities: The purpose of the CHGA is to function in an advocacy role for hemp growers in Canada, giving access to years of combined research and information. The role of the CHGA will extend to all aspects of the industrial hemp movement as well as facilitating connections between the growers, the public sector and the government in a positive and progressive environment. CHGA will act as a forum for friendly and open exchange of ideas, research, resources, and past and future applications of hemp products on the global and free market. Towards this purpose we are traveling across Canada in an effort to meet with those who have interest in the hemp industry to discuss their individual concerns and present them in written form to Health Canada. They are constructing an educational web site to inform the public regarding the complete sustainability of industrial hemp. They feel that Canadians have a rare opportunity to be leaders and developers in the global and free market of this unique, ecologically sound and historically proven multi-use plant. They are working to promote regulations which expedite and expand the potential of the industry rather than stifle and suppress it. They hope to promote licensing guidelines which are "user friendly" for growers. They also wish to connect with and share information and resources with international associations, councils, groups, individuals and governments. It is our sincere hope that the industrial hemp movement may truly create a healing of the planet. They are not promoting at this time medicinal issues. They feel it is important to work with the foundation already set for industrial hemp. CHGA does not promote any individual for profit organizations or associations but we will acknowledge their contributions, act as a network for members, and credit all efforts and support of both the CHGA and the industrial hemp industry.
Contact Person: Brianne Whitworth, Secretary or Michael C. Hansen, Founding Director and President
Coordinamento Nazionale Per La Canapicoltura (Assoccanapa)
Postal address: Via Donizetti 7/9 10022 Carmagnola (Torino) Italy
Phone: 39 11 971 3688, 972 3126
Fax: 39 11 9721257
E-mail: assocanapa@cometa.ipsnet.it
WWW: http://www.cometa.ipsnet.it/assocanapa/
Year established: 1998
Summary of activities: Has arranged several meetings in Italy to effect the reintroduction of industrial hemp to Italy, has had very positive results with getting Government, Agricultural Institutions, and Industry involved. Most members read and speak Italian primarily.
Contact person: Felice Giraudo
Kentucky Hemp Growers Co-operative Association (KHGCA)
Postal address: P.O. Box 8395, Lexington, Kentucky 40533, USA
Tel: +1 (606) 252-8954
Fax: none
E-mail: info@hempgrowers.com
WWW: www.hempgrowers.com/
Established: 1942
Membership: 110
Membership fees: $25
Summary of activities: The Kentucky Hemp Growers Co-op, incorporated in 1942, serves to establish & promote market equity between industrial hemp suppliers, processors and manufacturers.
Journal/newsletter: The Industrial Farmer available via E-mail.
Contact person: Andy Graves
Language: English
New Zealand Hemp Industries Association (NZHIA)
Postal Address: P.O. Box 38-392, Howick, Auckland, New Zealand
Tel: +64 4 477 3520
Fax: +64 4 477 4819
E-mail:nzhemp@es.co.nz or hemptastic@clear.net.nz
WWW: http://www.hemp.co/nz/nzhia/ (updated 2-2-98) http://homepages.ihug.co.nz/~Spedro/home.html (25-5-98) Excerpts from the 5 minute Guide to Industrial Hemp in NZ is posted at the second NZHIA site.
Established: 1990 incorporated 1997.
Membership: app. 100-140
Membership Fees: Asst. NZ$25.00
Full member NZ$100.00.
Summary of activities: To act as a lobby group for the legalization of a hemp industry in New Zealand. To educate the public of New Zealand about the attributes of hemp products. To facilitate the exchange of information and technology between hemp Agriculturists, processors, manufactures, distributors and retailers. To maintain and defend the integrity of hemp products on the market. To provide a seal of authenticity for members in good standing to display on Certified True Hemp Items. To advocate and support socially responsible and environmentally sound business practices in the hemp Industries. The NZHIA is not a forum for the legalize Marijuana Debate, and has no interest in same, except where it may impact on the orderly development of New Zealand's hemp industry.
Journal/newsletter: NZHIA Monthly newsletter available via E-mail.
Comments. NZHIA is a proactive political lobby group information dispenser. They have produced a small booklet, FAQ, lecture and presentation pack to present to potential growers, manufacturers and other interested parties. They do not produce a journal although the 5 Minute Guide to Industrial Hemp in NZ is intended to be an annual publication. Probably 1999.
North American Industrial Hemp Council (NAIHC)
Postal address: PO Box 259329, Madison, WI 53725-9329, USA.
Tel: +1 608 224 5135
Fax: +1 608 224 5110.
E-mail: sholtea@wheel.datcp.state.wi.us
WWW: www.naihc.org/
Established: 1995
Membership fees: Business and industry Total Annual Sales/Annual Dues $1 billion or more/$5,000 $100 million to $999 million/$2,500 $5 million to $100 million/$1,000 $500,000 to $5 million/$500 $499,000 or less/$250 Government Agencies, Councils, and Individuals "Government Agencies/$500 Not for Profit/$500 Individual/$100
Summary of activities: Annual Membership Meeting & Conferences in November yearly
Journal/Newsletter:
White Paper Reports available via E-mail.
Comments: The NAIHC vision is to reestablish and expand the use of for the North American Industrial Hemp Council industrial hemp. Mission: Form and establish relationships between academia, farmers, agribusiness, manufacturers, government, public interest groups, and marketing firms with emphasis on land management, economic and environmental considerations; Develop policies to enhance the stewardship of our lands through the sustainable cultivation, product development, manufacturing and marketing of industrial hemp and other comparable annual fiber crops; Promote the development of new products and business based on industrial hemp fibers and seeds; Cooperatively foster a better understanding of industrial hemp and other annual fiber crops and their development. The NAIHC will hold its Third Annual Industrial Hemp Conference November 5-7, 1998 at the crown plaza in Washington D.C.
Contact person: Erwin A. "Bud" Sholts
nova-Institut
Postal address: Goldenbergstr. 2, D-50354 Hürth, Germany
Tel: +49-2233-94 36 84
Fax: +49-2233-94 36 83
E-mail: nova-H@t-online.de
Established: 1994
Comments: The nova-Institut is one of the premier industrial hemp organizations. It's two Bio-Resource 95 & 97 events were the most important industrial hemp conferences in more than 20 years. They also publish numerous books and pamphlets on industrial and medical uses of Cannabis of a very high caliber, highly recommended by the IHA!
Patients Out of Time
Postal address: 1472 Fish Pond Road, Howardsville, VA, USA, 24562
Tel: +1 804-263-4484
Fax: +1 804-263-6753
E-mail: patients@MedicalCannabis.com
WWW: http://mojo.calyx.net/~olsen/ or www.commonlink.com/~olsen/
Established: 1995
Membership: no members
Membership fees: no fees/accept donations
Summary of activities: Educate professional health care groups and the general public about medical Cannabis and lobby professional health care organizations in the US to produce written resolutions calling for the immediate access to the medicine for patients under the health care community's control.
Journal/newsletter: No journal or newsletter
Comments: They have an active Board of Directors composed of six of the eight legal marijuana-using patients in the US (two wish to remain anonymous) and RN's and MD's who are experts in therapeutic Cannabis protocols. An active Board of Advisors composed of advocates and health care providers compliments this work.
Related information:
I-CARE (International Cannabis Alliance of Researchers and Educators)
e-mail address: I-CARE@MedicalCannabis.com
Contact person: Al Byrne
---