DRCNet Response to the
Drug Enforcement Administration
Briefing Book

---
---
Mobile Enforcement Teams
DRCNet Response: The DEA's Mobile Enforcement Teams are nothing new. They were tried back in the early 1970s by Nixon's ODALE force. The end result was a massive failure. For proof of that, see the comments of Judge Volney Brown, who was in charge of those efforts in An Open Letter from the Front Lines of the Drug War.
DEA's Response to Violent Drug Crime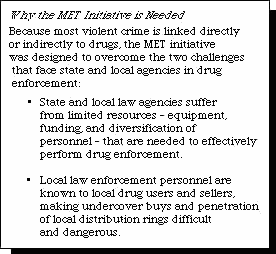 The DEA Mobile Enforcement Team initiative (MET) is designed as a support service to help state and local police departments combat violent crime and drug trafficking in their communities.
The METs are tactical, quick-response teams. At the request of a police chief, sheriff, or district attorney, a MET will be deployed to work in concert with local police to dislodge violent drug offenders from the community. In coordination with state and local agencies, a MET will conduct surveillance, collect intelligence, cultivate investigations, obtain indictments and help with arrests, before returning to its base-division.
Mobile Enforcement Team members are not homicide investigators. The MET's mission is to cultivate drug intelligence and investigations against violent offenders, and then share that information with state and local authorities to further their homicide cases and prosecutions.

Those factors are:
Limited Resources: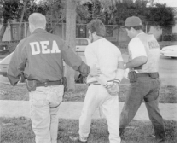 State and local law enforcement agencies are expected to investigate more crimes with less financial, material, staffing, and technical resources. The MET initiative provides financial and technical support to investigations, as well as a diverse group of Agents whose involvement would minimize risk of exposing local undercover officers.
More violence/fewer police officers: The number of police officers has dropped, while violent crime incidents have surged. In 1990, says the IACP, the nation had fewer than one officer to respond to every three violent crimes.
Increased teen violence:
Young peoplethe most violent of all age groupsare committing more random violence and killing strangers more frequently than adult criminals. Police investigations, therefore, are weakened, with fewer ties between victim and offender.
Witness intimidation:
Criminal witness intimidation has had a profound negative impact on investigations, prosecutions, and the closure rate. Increased use of intimidation by gangs has undermined numerous investigations and prevented an untold number of potential witnesses from providing crucial testimony.
Violence within the criminal community:

Another reason for the declining closure rate is that many homicides and other violent acts are committed within the criminal community, yet still terrorize the innocent. These would include enforcement actions within gangs, reprisals between drug lords, and crimes committed among criminals to obtain money for drugs.
In addition to law enforcement agencies, the METs also reach out for the unique expertise that can be offered by specialized housing agencies. Numerous communities across the country have shown that improvements to public housing, which often serve as gang-havens, can help drive out gang activity and lower crime rates. Such agencies that might be included in this effort are public housing police forces, building inspectors, and city tax and finance departments.
The DEA will give priority attention to certain circumstances when dispatching MET teams to state and local communities. These include:
Areas that are prone to, and have reflected, a high incidence of violent crime that are directly related to street-level drug trafficking;


Areas that are plagued by an extremely high volume of drug trafficking or by blatant drug dealing in public places where little or no regard is shown for authority figures or local law enforcement efforts; and


Complaints of drug distribution in and around schools, playgrounds, and other areas where youths congregate.
Methods of Operation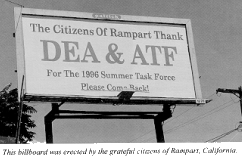 The DEA began assigning METs to DEA Divisions across the country in early 1995. When contacted by a local counterpart, the DEA Special Agent in Charge will first ensure that the gang or organization to be targeted is known to traffic drugs and engage in violence. The SAC will then dispatch to that city an advance team consisting of two or three Special Agents. Over the following two to three weeks, the advance team, using state-of-the-art equipment, will take surveillance videos and collect intelligence on gang members. Also during this time, the advance team will meet with local counterparts to discuss key issues.
These issues include: the handling of evidence and defendants, seized assets, warrants, press releases and publicity, expenditures, actual or potential informants, funding the investigation, processing defendants, and follow-up procedures.
Afterwards, the advance team will return to its base-division, where it will review the surveillance intelligence with the other team members and then collectively draft an action plan. The entire team, consisting of 10-12 Agents, will then return to the target city outfitted with the latest surveillance and raid-planning equipment. At that point, in cooperation with local agencies, the team will raid the targeted gang-havens and make arrests.
Following a MET-assisted operation, DEA officials will meet with representatives of the requesting agency to evaluate the long-term success of the operation. Measures of effectiveness of the operation include: visible drug sales and use reduction, the stability of the target area, community reaction and involvement, resource development, resource implementation, media coverage, and a comprehensive assessment by the requesting agency.
Significantly, the DEA will not involve itself in any way with the press, neither making press releases nor issuing public announcements regarding these operations. All media relations and press announcements concerning the progress and outcome of the investigations will reside solely with the requesting agency.
Division of Responsibilities
Identifying the targets and goals of the MET operation will be the responsibility of the requesting agency;


Methods of investigation and surveillance will be the responsibility of DEA-MET personnel;


Media events and press releases will be at the discretion and sole responsibility of the local law enforcement executive, not the DEA; and


Upon completion of its assignment, the MET will then turn over all cases to the requesting agency for further development.
Structure, Staffing, Training
DEA allocated $3 million in FY-95 to train, equip, and support 19 Mobile Enforcement Teams based in as many DEA offices across the country. Approximately 200 DEA Special Agents are assigned to the MET Initiative.
MET Deployments
Mobile Enforcement Team operations have been conducted in:
Pritchard, Alabama
Selma, Alabama
Eloy/Pinal, Arizona
Bullhead City, Arizona
Century & Lennox Stations, Calif.
Gardena, California
L.A. (Rampart area), California
L.A. (Century, Lennox Station), Calif.
San Luis Obispo, California
Oceanside, California
Oxnard/Ventura, California
Richmond, California
Vallejo, California
Denver, Colorado
Fort Pierce, Florida
Bowden, Georgia
Colombus, Georgia
Fort Wayne, Indiana
Lynn, Massachusetts
Worcester, Massachusetts
Lincoln Park/Melvindale, Mich.
Pontiac, Michigan
Ypsilanti, Michigan
Fountain Park, Missouri
Sikeston, Missouri
Asbury Park, New Jersey
Camden, New Jersey
Albany, New York
Niagra Falls, New York
Southampton, NewYork
Woodburn, Oregon
Bristol, Pennsylvania
Arlington, Texas
Galveston, Texas
Chincoteague, Virginia
Fredericksburg, Virginia
Manassas, Virginia
Puyallup, Washington
---
A few examples of early MET successes follow:
One of the first MET deployments was requested by Sheriff Edward Williams and Assistant District Attorney David Hillford of St. Luis Obispo, California. Only 10 days after the request, the MET deployed to target several gangs who trafficked in methamphetamine, cocaine and heroin. Local authorities reported 13 drug homicides that had been linked to gang members controlling methamphetamine laboratories in St. Luis Obispo County. After 60 days of deployment, the MET completed the operation with 70 arrests, the seizure of $250,000 worth of drugs and two assault rifles. According to DEA Group Supervisor Robert McGuire, "Gang activity in the county has been greatly reduced." In a letter of appreciation to the DEA, Sheriff Williams stated, "The accomplishments achieved as a result of this MET operation will have a significant impact on the drug problem and the quality of life in this community."
---
Another successful MET deployment was to Galveston, Texas. Sheriff Joe Max Taylor of Galveston County requested DEA assistance to address gang-related drug problems in several areas of the county. Soon after its deployment, the MET arrested members of Crips, Bloods, and Latin Kings gangs that ran crack houses and were linked to numerous drive-by shootings and homicides. The MET conducted over 40 search warrants that netted 76 arrests for drugs violations, murder, violent acts, deadly conduct, and aggravated assault with a firearm. Another highlight of this investigation was the identification of two sources of supply for crack houses in Galveston County. One source was supplying 400 kilograms of crack cocaine to gang members, annually. Sheriff Taylor said, "The Houston MET team has been able penetrate two key organizations that are responsible for providing over 75 percent of the cocaine to street gangs that are active in our county. DEA's MET program is a very worthwhile project that provides law enforcement agencies that are faced with limited resources the breadth of experience needed to counter drug-related violence."
---
Another MET deployment out of DEA's Washington, D.C. Division led the MET to Manassas, Virginia. In this case, a joint request had been submitted by the Manassas Police Department and the Prince William County Sheriff's Office. The targets were open air drug markets in three housing projects in the Manassas area. Prince William County Police Chief Charlie Deane said, " We've worked with the DEA for a number of years now, and the MET initiative is giving us intensive short-term assistance." The deployment successfully concluded with the indictment of 54 defendants for state drug violations. Fifty drug exhibits were purchased in three housing projects, and the defendants ranged in age from 13 to 65. To date, 38 defendants have been arrested in connection with this investigation.
---
In Arlington, Texas, Police Chief David Kunkell requested DEA assistance in combatting the "principal members of a very violent methamphetamine organization." In May, a MET deployment in Arlington, Texas, culminated with the arrest of seven individuals and the seizure of $1 million worth of methamphetamine, 4 guns, 7 automobiles, and $114,000 in cash. The targets were methamphetamine traffickers from Mexico believed to be major suppliers of methamphetamine in the Dallas-Fort Worth area. Most of the gang members have criminal records for violent crimes such as robbery, street assaults, and murder. Moreover, several had connections to the Latin Kings drug gang.
---
The New Orleans MET Team was requested to deploy to Selma, Alabama and surrounding Dallas County. In the past year there had been nine drug-related homicides and a 44 percent increase in drug-related robberies. Recently two members of this organization, which distributed 25 kilograms of crack cocaine weekly, were involved in a drug-related murder and shooting of another individual. The MET deployment in May successfully culminated with Grand Jury indictments against 17 members of the organization and the arrest of 15 individuals in July 1995.
---
In Denver, Colorado, Chief David Michuad of the Denver Police Department requested the assistance of the MET team to confront the large-scale drug distribution gang headed by David Gutierrez. This criminal group had been supplying drugs throughout the Denver metropolitan area, including the prison system, since 1979. Although Gutierrez is suspected of four homicides, his gang used force and violence to intimidate potential witnesses. Nevertheless, information developed by the Denver Police Department and the MET was used to secure a Continuing Criminal Enterprise indictment. On July 19, 1995, Gutierrez and four of his associates were arrested on numerous federal drug charges, as well as operating a CCE. Another 12 members of the gang have been indicted, and several properties worth over $1 million have been seized.
---
Several Police Chiefs have stated that the MET program is "long overdue." Ruben Ortega, Chief of Police in Salt Lake City, stated that "The MET is of great assistance to local agencies strapped for resources to combat violent, drug dealing gangs."
---
---
Travel back to the DRCNet Response to the DEA Home Page
Travel back to the DRCNet List of DEA Publications
Travel back to the Table of Contents
---