DRCNet Response to the
Drug Enforcement Administration
Get It Straight!
---
---


This book talks about drugs that exist in many of our communities, and it will help you to understand why drugs are harmful. We hope your decision, like ours, will be to refuse drugs. Our book is different from a lot of the things you've probably seen or read because it contains our thoughts. That's what makes this book so neat!
We're a lot like you. We're all about the same age and have similar concerns about drugs. We were given a classroom assignment to find out as much as we could about drugs that are commonly abused, and this is our story.
You can use GET IT STRAIGHT! THE FACTS ABOUT DRUGS to help you realize that using drugs is not the way to go. The book will also be helpful as a research tool for your school assignments, as something fun to read, and also as something to share with your friends. You should feel free to write in the book too. There will be questions for you to answer, activities for you to do, and role plays for you to participate in. We hope this book is as helpful to you as it was fun for us to write.
PEACE! The Prevention Posses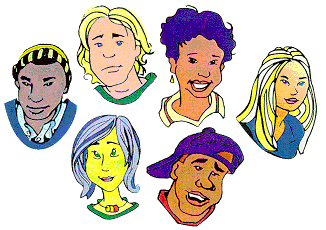 Ashton
Antonio
Thandika
Sarah
Damein
Nin-Hai
Laura
Terra
William
Kevin
Tony
David
Joanna
Cory
K'Vohn
Phill
Jamal
Erica

GET IT STRAIGHT! Table of Contents
---
Travel back to the DRCNet Response to the DEA Home Page
Travel back to the List of DEA Publications
---