86
---
Conference Reports
---
Festival Du Chanvre
There is something to be said for tradition, and this was the salient feature of the Festival du Chanvre in Montjean sur Loire, France (August 18-22, 1999). This sleepy little village, which rests along the sandy beaches of the River Loire, is a vibrant cultural melting pot once a year, where no less than three major cultural events converge; a sculpture exhibition, a youth festival of song and dance, and the Festival du Chanvre. This cultural collage was coordinated by AFLAM, the local cultural organization which wisely began to include the celebration of hemp five years ago. This was apparently not in response to the "hemp-hype" emerging at that time, but rather as a sincere effort to salvage the remnants of a vital tradition from this region.
By the time of the festival, half a hectare of fiber hemp stood ready for harvest, and the first day of the festival opened when authentic "chanvriers" donned their hemp work shirts to uproot the hemp, as it was done before the advent of machines, kicking the dirt off with their shoes and bundling the sheaves with twisted shocks of smaller stems. (It is important to note that most of these men and women are well over 60 years old.) After a few rows of that, an antiquated scything device was pulled through the field by tractor to pick up the pace. One could have easily imagined such a machine pulled by a team of horses. It was a stunning exhibition of progress, from pure hand labor to the advent of simple machines. The bundled stalks were eventually loaded onto a cart, and between celebratory glasses of local wine, hauled to the sandy banks of the Loire and carefully placed into the river. In a time honored fashion, the resulting 'barge' of hemp was first covered with hay, followed by an even layer of sand to submerge this cargo for a few days of retting in this slow-moving river.
Meanwhile, festival goers had plenty of time to explore the "eco-museum", which has a permanent exhibition of coal mining, wine production and hemp farming. This museum is a treasure of delights, from hemp brakes to rope walks. All were functional, and all of interest to the hemp enthusiast. In addition to the items on display, there was an excellent short film on all of the regional methods of traditional hemp cultivation and processing, presented in chronological order of innovation. The observant neo-chanvrier may be touched by the modest authenticity of this documentary, and the overall lack of pretense.
As the week rolled on, various events emerged, such as the scientific lectures on various aspects of the Cannabis plant, film and photo exhibitions on various aspects of the river and its cultural significance, and evening entertainment. Throughout the week, a demonstration of hemp construction was in process for all to see, and the builders were very kind to encourage participation, eager to share their favorite recipes for making hemp hurd cement. Again, the genuine sincerity and relaxed atmosphere dispelled global myths of French snobbery. Only a few words of French worked like magic to bring even jaded Americans into the fold.
The scientific lectures were organized by La Chanvriere de l'Aube this year, with an international venue of experts speaking on various aspects of food and fiber. Some limited discussion was allowed for the medical potential of Cannabis, but unfortunately the majority opinion was still preoccupied by concerns of the alleged toxicity of cannabinoids. Aside from some ignorant comments by representatives of the FNCP, the French hemp seed monopoly, most of the discussion was valuable and productive. Representatives from the FNCP were shocked into disbelief, or perhaps denial, by the revelation that 'FIN-314', the Finnish early-blooming variety, had THC levels well below anything currently held by the FNCP. A spokesman for the FNCP attempted to trivialize the agricultural significance of this newcomer by stating that, "Maybe this ['FIN-314'] is good for Finland".
The "big day" was on Sunday, when about 5,000 people turned out to shop the hemp market, view the exhibitions and be entertained by song and dance. Most of the hemp clothes on offer were a combination of fashion and functionality, and the prices for these unique creations were nearly reasonable. In addition to the fanfare, retted hemp stalks were removed from the river and stacked to dry on the beach. Concurrently, several eras of hemp processing proceeded like a three ring circus: aerobic demonstrations with a traditional hand break, scutching with a horse-powered device, and hackling with a steam-powered machine. Even a small rope walk was in operation. Traditional flat-bottom sail boats, once used for transporting goods up and down the river, were on hand for a leisurely float along the river banks for only a modest, and non-obligatory, donation. On a hot and crowded afternoon, this was an excellent opportunity to get away from most of it all, by kicking back and let someone else do the navigating. Hat, sunglasses, comfortable clothes, sunscreen and something cool to drink helped to keep this pilgrim in high spirits throughout the day.
Two main drawbacks were apparent. The first case was a lack of accommodations in this lovely little village. There are two relatively small hotels close to the river, and a campground. There is also the possibility of renting private accommodations for the well-connected. Otherwise, one should plan on renting a car and staying in another village, where there are certainly other things to see and do, as well. The other drawback is that the prospective traveler must drive to Montjean as there is no train or bus that stops within a reasonable walking distance. Luckily, taxis are always waiting at a neighboring train station, although a visitor would do well to arrive early on a week day in order to avoid evening or weekend rates.
Jace Callaway <callaway@uku.fi>
---
Cannabusiness '99 Expo
The Cannabusiness Expo took place over the weekend of the 17th to the 19th of September 1999. This year's event was, for the second time, held in Hennef, near Cologne, Germany. The convention center, or Messe, at Hennef-Sieg, played host to over 60 exhibitors. CannaBusiness intends to cover all branches of the Cannabis business, so the goods and services on display covered the entire range of applications from hemp textiles, construction materials, medicinal and nutritional uses, through to marijuana growing equipment and paraphernalia. Industrial associations and the media were also present, expressing their support and interest into the future of industrial hemp.
This demand is set for rapid development, as mainstream stores wishing to enter the market are beginning to express their interest. In addition to many German producers and wholesalers, other countries were also represented. A good range of foods came from Switzerland, with products including spaghetti and tagliatelle, Swiss Cannabis pastilles, chewing gum flavored with essential oil, edible (seed) oils and dressings, beers, wines, cosmetics and shampoos —all containing hemp in some form or another. Another firm had a selection of fourteen delicious hemp ice creams available for sampling. A French firm displayed an entire range of flooring, insulation, walls and roofing materials used to build safe and sustainable hemp homes. From The Netherlands, came hemp harvesting and processing equipment used in the making of products including a comfortable and durable horse stable-bedding, hemp-based animal foodstuffs and relaxation mats, complete with various aromatic fragrances. Representatives from the Spanish, Italian and British industries were also there. Several firms from the US showed hemp clothing with their cutting edge fabrics and styles complimenting the other clothing shown. Clothing firms working in Nepal displayed innovative designs and interesting hemp blend fabrics in their garments. A hemp/cashmere sweater anyone?
Chris Conrad, author of Hemp: Lifeline to the Future and other publishers from the US, France, Canada and Spain demonstrated their support of the emerging hemp industry. The International Hemp Association and Amsterdam's Cannabis College were also present, providing reliable information and all sorts of interesting ideas and considerations, for those developing industrial hemp from the ground up.
Various topics were addressed in the lectures, once again organized by the nova-Institute, the organizers of two important meetings for our industry, Bioresource Hemp 1995 and 1997. Saturday was devoted to talks relating to the theme "The Handling of Cannabis as Medicine and as a Drug". Sunday's presentations touched on the industrial, falling under the heading "Current Developments in the Hemp Business."
Richard Barge <richardbarge@hotmail.com> and
Annie Riecken <annier@xs4all.nl>
---
HIA Convention '99
Gather hemp industry experts, eat lots of delicious hemp foods and what do you get? A successful HIA Convention! The sixth annual HIA Convention was celebrated at the Ecology Retreat Center near Orangeville, Ontario, Canada, from September 23rd to 26th, 1999. This was the first time this event had been held outside the United States and the first time many industry hempsters had actually seen real live legal hemp growing free in the field. Hemp is one of the very few articles of international trade that Canada has in abundance which is otherwise unobtainable in the US. Everybody had a wonderful time in Canada, playing together outside in the best stretch of weather we have had all year.
The Ecology Retreat Center was a gracious host to 100 plus attendees. Many of us stayed in the lodge, bunkhouse, bed and breakfast, or camped out. Others stayed in local inns among the hills and changing fall colors. The weather was warm during the day and cold at night and morning. A big tent provided us with a large enough space for meals and some program highlights. The fire-pit in the woods was the favorite late-night spot for conversation and relaxation.
Delegates from the USA and Canada, China, Jamaica and other global zones attended, as the HIA is an international organization championing industrial hemp programs worldwide. Whether you are an experienced hemp entrepreneur or a novice, there was plenty to learn. At the dinner Thursday evening (September 23), we convened and introduced ourselves. The Hemp Time Machine with HIA hemp historian researcher John Dvorak (The Boston Hemp Co-op) presented a distinctly pan- American overview of US hemp history nuggets, which he is currently loading onto a hemp history website accessible to all HIA members. Mr. Dvorak is a motivated fact hunter and an able collector of important historic American hemp documents. He continues with his ongoing review of documented evidence that suggests a long and lively American hemp business in many parts of the nation. We had suspected this all along, but until now, were never able to point to it with any certainty. Mr. Dvorak's collection of Hemp Americana will form the nucleus of his forthcoming hemp document "cyber-museum" that promises to be a credible cache of information (see page 91).
Mr. Dvorak's presentation was supplemented by his friend and correspondent, Canada's hemp historian, "Dr." Alexander Sumach of the Hemp Futures Study Group. He shared some quirky highlights of 400 years of industrial hemp in Canada that he has collected for an upcoming New World hemp history book project. As faithful former members of the British Empire, Canadians in former centuries quietly produced mountains of hemp for the British navy's floating war with Napoleon. Afterwards, they delivered the hemp necessary for construction of the vast 19th century "world wide web" of submarine cables linking the continents.
Friday, we convened in the meeting room where important updates on the Canadian and worldwide hemp industry were given. Food industry reports, marketing and retail concerns and solutions were presented. HIA hemp hats, T-shirts and hang tags were introduced with the new logo. Those who have been in the hemp biz for five years were awarded 5 Year Pins. Friday morning was the HIA business meeting and results of the Board of Directors election for 1999-2000 were formally announced: President - Cindy Biggers; Vice President - Larry Duprey; Treasurer - Eric Lineback, and Secretary - Candi Penn.
After dinner, the ceremonies were wrapped up with a charming speech by Wayne Roberts, popular green-leaning Canadian author of Get a Life and Real Food for a Change, who shared his insight on the geopolitical overtones of hemp. He reminded all how wonderful hemp really is, beyond the vanishing point of recent border hassles. Good news at a bad time was much appreciated.
Updates from the Cross-Canada Hemp Producers followed, and a panel moderated by British Columbia editor Arthur Hanks of cyber-magazine Hemp Commerce and Farming Report brought HIA members up to date. Jerzy Przytyk, Hempco - Shazam Farms, explained what was new in Quebec. Dave Marcus of Natural Hemphasis, outlined the Ontario hemp initiatives, and Shaun Crew of Hemp Oil Canada, Inc., told us about advances in Manitoba. So, this is how 30,000 acres of Canadian hemp gets into the barn. Canada grew nearly as much hemp as all of Europe combined in 1999 and attained, in one irrigated area on the prairies, the unprecedented yield of a ton of hempseed per acre. That's 500 pounds of pure protein from one acre of land! On the world hemp front, reports from Hungary, Australia, New Zealand, Jamaica, and Japan were presented by Eric Steenstra, Candi Penn, Paul Chang and Greg Mackem, respectively.
The Hemp Food Panel followed. Hemp food industry leaders shared the ins and outs of providing edible hemp to a hemp-hungry market that is growing daily. We heard good news about hemp for food and its promising acceptance on the market from Greg Herriott (Hempola), Ruth Shamai (The Natural Order and the brand new Ruth's Hemp Foods), and Richard Rose (HempNut, Inc.). All were in favor of establishing standards and quality control regulations as the first step in being recognized as a legitimate market sector in the bigger food trade game. As these players stand to gain the most at the onset of a legal hemp food industry, but stand to suffer the worst in a cross border showdown, they gave an informed articulate group presentation at the convention.
The Hemp Marketing and Retail panel revealed steady growth for the industry and noted the plethora of new hemp-based foods arriving on the market, all of them put into jeopardy by the recent actions of the US Drug Enforcement Administration and Customs Service. Presenters included Retail Council Chief, Cindy Biggers (Hemp in the Hollow), Laurie Scott (Fiber Ethics) and Eric Lineback (Hempseed.com).
The Friday Afternoon Legal Panel that followed consisted of Mel Green, Toronto; Dave Frankel (4th Wave Law), San Francisco; and Don Wirtshafter (Ohio Hempery). Independent counselors with special knowledge of the US hempseed embargo shared their expertise with HIA delegates. We were joined by Canada's leading industrial hemp producer Jean Laprise of Kenex Ltd. It is his birdseed that was causing all the flap with the DEA, and he shared his predicament with us and explained how they initially held back with their media fury but then did everything he could to rescue his hemp, our hemp, all hemp from the line of fire.
The United States DEA-sanctioned Customs embargo that threatened to cut off all future deliveries of Canadian hemp to the US was the hot topic of discussion for all. This HIA convention was a critical time for a hemp industry, meeting for the last time in what's left of the 20th century, to address these new rules of engagement. A group of volunteers became "The Team" and action was planned. The <http://hempembargo.com> website was implemented thanks to Mark and Chris Tucci. John Dvorak and Janet Crolius-Jacob took the lead in organizing the effort to confront this serious issue. Dave Frankel and Don Wirtshafter provided their legal expertise. Ruth Shamai is heading up the Canadian front. We have a lot to be grateful for - and a strong market ahead waiting for hemp - which is a lot more than most other organic raw food materials can say for themselves right now. Hemp is "everything but" legal in America. [Editor's note: see pg. 97 for a report on the seed embargo issue.]
Yoga, massage, and an herb walk were offered Saturday morning, while meetings continued on several issues. After lunch, we drove to a hemp farm for a field day. It was very exciting for some of us who had never experienced a hemp field. The combine cut a swath of hemp while we watched. It was a "photo-op" supreme. Guest speakers featured Jean Laprise, Greg Herriott, Dr. Ernie Small and Bill Baxter. Lloyd Gusta demonstrated his hempseed oil press.
Saturday night, the HIA honored hemp pioneer Joe Stroebel who, seven years ago, had grown North America's first legal hemp in three generations. Mr. Stroebel is in poor health and could not attend. But his partner and friend, Geoff Kime of Hempline, Ontario, accepted the award on his behalf, and we clapped loud enough for Joe to have heard if his window was open.
We are grateful to Joe and Geoff for having the fortitude to negotiate the first hemp permit and thus opening the door for all. Their pioneer perseverance made the hemp industry we know today not only possible, but a prosperous $200,000,000 industry annually and growing like the weed it is. At the sunset of the 20th century, there are a lot of reasons hemp is still a good thing to be bringing into the world for the new millennium.
We moved to the warm meeting room and were inspired by Dr. Dave West. The important points of his talk centered on 'Free the Seed'. Did you know that a low THC, industrial hemp variety is determined by the seed alone? And no matter what you do to it during cultivation, the plant is always going to be of the industrial persuasion. Thus, the testing in the field required by regulations is unnecessary. Dr. West is the chief investigator for the Hawaiian trials commissioned by recent legislation in that state, and was sponsored by HempNut, Inc.
Ralph Bronner of Dr. Bronner's Magic Soaps donated soap to everyone, and entertained us with a hemp anthem for the current struggle: Hold On To That Plow! . Audio and video tapes were made of the convention proceedings and may be available in the near future, in order for members to hear and see some of this event.
Sunday morning, an open discussion of what is next for the industry and the Association provided a venue for everyone to express concerns and suggestions and talk about some specific conflicts within the hemp industry. The display area was awesome. Attendees showed their latest, greatest products, and donated items were given away as door prizes to the lucky winners.
Thanks to all who helped make the HIA Convention happen, especially the convention coordinators: Larry Duprey, Ruth Shamai, and David Marcus.
Candi Penn <info@thehia.org> and Alexander Sumach <rheading@becon.org> with files from Larry Duprey, Ruth Shamai and David Marcus
---
North American Industrial Hemp Council
The North American Industrial Hemp Council (NAIHC) held its fourth annual conference and trade show in Rolling Meadows, Illinois, on November 4-6, 1999. The 140 attendees had the opportunity to hear various presentations on the hemp industry and to network. The NAIHC's goal is to bring together a diverse group of farmers, researchers, entrepreneurs, ecologists and government and industry officials interested in recommercializing industrial hemp as a sustainable seed and fiber crop.
The opening presentation by former-CIA director, James Woolsey, focused on current hemp politics in the US. A panel provided updates on state activities including Hawaii, North Dakota, Illinois, Virginia and Tennessee. Although individual US states have approved legislation to grow hemp, the US Drug Enforcement Administration has, to date, granted only one license. Geoff Kime of Hempline, Hugh McKee of Flaxcraft and Jean Laprise of Kenex spoke of the challenges to meet fiber quality standards as well as to be cost competitive with competing raw material sources. William Miller of Miller Consulting provided an overview of markets for hemp building materials and the development of a non-toxic natural-based resin for composites. Greg Herriot of Hempola gave an overview of the Canadian hemp industry while noting acreage increased six-fold from the 1998 to the 1999 season. The Industrial Hemp Seed Development Company has bred 'Anka', the first Canadian cultivar with limited sowing seed available for sale in 2000 and mass quantities planned for 2001. Emmanuel Geoffroy of Geotex discussed the European hemp industry and noted that while overall acreage had dropped off in Europe, France and Germany had seen increases in total acres planted. Ruth Shamai of R&D Hemp talked about the potentials of hemp foods and Med Byrd highlighted the various technical and logistical challenges in making hemp paper.
Attendees were in an upbeat mood after learning that Kenex had successfully shipped its first load of hempseed to the US in over three months. August 9, 1999, US Customs and DEA had seized a load of legal Canadian hempseed destined for a birdseed manufacturer. NAIHC announced its sponsorship of a study to determine what quantity of hemp oil must be ingested to result in a positive drug test. Preliminary results were expected in early 2000 with the final results to be published in a peer-reviewed journal in mid-2000. For more information on NAIHC, please visit www.naihc.org or e-mail chair@naihc.org or call +1 (608) 258-0243.
John W. Roulac <john@hemptech.com>
---
Hemp 2000 - Manitoba Industrial Hemp Assoc.
The Hemp 2000 Speaker Series & Trade Show convened at the Ramada Marlborough Hotel in Winnipeg, Manitoba, Canada, and started with a reception and live auction on the evening of February 29th, followed by a one-day conference and trade show area on March 1st. An exceptional line-up of industry leaders brought their knowledge and experience to educate and inform our participants, opening doors to industrial hemp in the new millennium. The conference also featured expert guest speakers, panel discussions, an industry trade show, a hemp fashion show, products and demonstrations, and Canadian hemp updates. The focus was on providing factual information about producing, harvesting, processing and marketing industrial hemp in order to strengthen industry potential and growth. This was a great opportunity to display, promote, and sell hemp-related products to a market of interested farmers, financiers, wholesale buyers, and curious consumers. Attendence was "a must" for anyone interested in farm production, food processing, fiber processing, value-added products, nutriceuticals, the promotion of industrial hemp, government information and programs, and hemp business opportunities.
Tracy Hucul <tracyh@pangea.ca>
---
Santa Cruz Industrial Hemp Expo
Well-known hemp activist Mari Kane emceed the third annual Santa Cruz Industrial Hemp Expo, on May 13 and 14, 2000 at the Civic Auditorium in Santa Cruz, California. Now established as the dominant trade show for the developing hemp industry, vendors and hemp re-introduction advocates were drawn here from around the world. Over 75 booths were available for vendors at the 2000 show, which included a major expansion on Church Street in front of the Civic Auditorium with a large, fully tented space for 30 or more vendors. Additionally, a second stage, a hemp foods and hemp alcohol serving area, and a hemp educational display area were provided outdoors.
The Santa Cruz Industrial Hemp Expo provided a positive basis for public support of hemp re-introduction, with an open-to-the-public, trade-show based setting that was well organized and effectively promoted. Live music, a hemp fashion show, a hemp house, a hemp camp display, hemp foods and beverages, educational and historical exhibits, workshops, videos, speakers and panel discussions were featured. In addition, a Pacific Avenue hemp theme parade was provided on Saturday morning, May 13.
A highlight of the event was the political discussion. Hemp will be an issue this election year in the USA with a Hemp presence planned for the Conventions in Denver (Green Party), LA (Democrats) and Philadelphia (Republicans). The HIA Board of Directors met and launched a political action campaign: VoteHemp! A voter guide will be available at http://votehemp.com and National Coordinator Lloyd Hart plans to get the 55% of Americans who do not vote out to the polls to voice their opinion regarding industrial hemp. For more information, please see: "http://www.cruzexpo.com".
Candi Penn <info@thehia.org>
---
National Conference of Cannabis Therapeutics
The National Conference of Cannabis Therapeutics took place April 7 and 8 at the University of Iowa, Iowa City, April 8-10, 2000. About 250 people attended this first-of-its-kind rendezvous of physicians, nurses, researchers, and patients. The conference was organized by Patients Out of Time, a nonprofit group directed by Mary Lynn Mathre, RN. She is well known in the field of medical marijuana, having edited Cannabis in Medical Practice (McFarland & Co. 1997). Al Byrne, co-founder of Patients Out of Time, proudly noted that a university deep in the American heartland sponsored the controversial conference. Indeed, the Iowa campus staff was courteous and helpful, and even the police seemed happy to serve the conference attendees. I almost had to laugh. When I checked into my room at the university conference center, the concierge typed my name into the computer, saw I was registered with the Cannabis conference, and gave me a nice smile. Looking further down the screen, however, her smile turned to concern, "Oh, Dr. McPartland, you are booked in a non-smoking room, will that be an inconvenience for you?"
The goal of the conference was to educate health care providers about the medical uses of marijuana. Melanie Dreher, RN, PhD, and dean of the University of Iowa College of Nursing, said the conference was needed because thousands of patients in the USA and Canada are using marijuana, and its illegality has hampered open discussion regarding its proper use. The goal was met with a balance of speakers discussing both the risks and benefits of marijuana. We also heard from four of the remaining eight people who receive legal marijuana from the US government. They shared their stories and showed people their Federal weed. Everyone could see the NIDA marijuana was low-grade, an insult to the people who use it for medicine.
Of course, most of the lectures were about marijuana and beyond the purview of this JIHA report. Only one speaker (yours truly) mentioned the health benefits of hemp seed oil. Know your audience: a slide that diagrammed omega-3 and omega-6 fatty acids in hemp seed oil brought groans. But a subsequent slide of Jerzy Prytyk standing in 10 hectares of flowering 'FIN-314' elicited cheers (led by Don Wirtshafter).
Several speakers characterized Marinol® (synthetic THC) as "merely" THC, pointing out that Cannabis contains many other valuable compounds. The multiple compounds in Cannabis provide multiple benefits. Other cannabinoids, such as cannabidiol, cannabinol, cannabigerol, and cannabichromene, seem to improve the therapeutic activity of THC and, at the same time, decrease its side effects.
David Pate PhD, MSc and David Hadorn MD, described the work they are doing at HortaPharm and GW Pharmaceuticals, respectively, in the Netherlands and England. They are breeding "single-cannabinoid" strains of Cannabis, plants that produce only cannabidiol, cannabigerol, or cannabichromene. Extracts of these plants are used for their singular medicinal qualities, or they are mixed with other extracts into proprietary blends. Drs. Pate and Hadorn showed slides of some really strange looking plants. Since these plants are low-THC varieties, they could be legally cultivated in Canada. This attracted a lot of interest. Indeed, a sub-conference of sorts hovered around the halls, as plant breeders shared information about Cannabis. A scientist from Pioneer Seeds was even at the conference. It was an exciting couple of days, and gave everyone hope for the future of Cannabis therapeutics.
John McPartland <John.McPartland@vtmednet.org>
---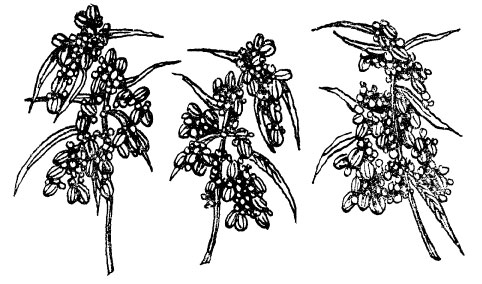 ---